All of the track pieces for The Incredible Hulk Coaster at Islands of Adventure have been completely removed as the dramatic refurbishment continues. The ride is scheduled to re-open Summer of this year, and the very first pieces of new track supports are just now going up. No word yet on whether or not the track layout will change when the ride comes back, but the ride cars and the coaster's launch system will be coming back new and improved. The queue building is being completely redesigned as well. Rumors of on-board audio for the new cars being added have also been swirling around. See the video and images below for the progress on this rehab, along with comparison pics from before and after the track was removed. Stay tuned for more theme park updates!
Construction Photos:
Images of the old track, before it was removed (not in the best condition):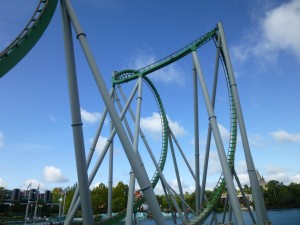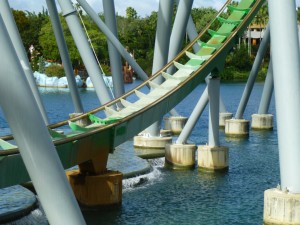 That's all for this update. Check out our last Kongstruction update, with video!
See all the Hulk updates here and subscribe to the feed for more continual updates!
Note: All images taken from within guest areas.
Subscribe to Receive Email Updates
---
Consider supporting us on Patreon for as little as $1/month. All patrons receive behind the scenes posts and exclusive podcasts. Learn More
---