All remnants of the old NBA City restaurant are gone as work looks be wrapping up on the exterior of the new Toothsome Chocolate Emporium & Savory Feast Kitchen. This original steampunk themed restaurant should be opening soon at Universal CityWalk. I was there Friday evening and the immense size of those smokestacks is incredible. They can be seen from everywhere on property, including from inside the parks! Check out the video and photographs below for a look at the new smokestacks, steampunk decor, and even working gauges that really spin! No word yet on an opening date but tables, chairs, and everything else is starting to show up inside and on the outdoor patios, so it shouldn't be too much longer now! Stay tuned for more Toothsome news as it happens.
Construction Update
---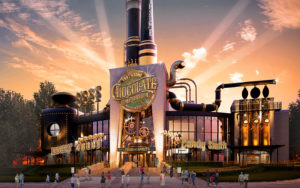 Be sure to check out my recent Hulk Coaster update! See previous updates for this project here, and subscribe to the feed so you never miss a new post!
And subscribe to my YouTube channel for more theme park videos and construction updates coming soon!
Subscribe to Receive Email Updates
---
Consider supporting us on Patreon for as little as $1/month. All patrons receive behind the scenes posts and exclusive podcasts. Learn More
---