It's time to take a look around Universal Studios Florida and see how some of the big construction projects are doing and what's new in the park! As soon as I got there I noticed a lot of new merchandise added to the main studio store for the upcoming film The Secret Life of Pets. There have been rumors of this property getting its own ride in the parks if the film is a success, (and I have a feeling the film will do just fine). One of the mugs caught my attention as it's actually branded with 'Universal Studios' on it! Over at Race Through New York Starring Jimmy Fallon lots of work continues at a breakneck pace as facades get built, roofing gets laid, walls go up, and lots of interior work gets done. It looks like another rounded (screen-like) wall on the inside is being constructed too. See images below for more details. Not much is happening at Fast & Furious Supercharged. They took down the potted plants in front of the work walls. That's about it. And finally in City Walk, Toothsome Chocolate Emporium (formerly 'Chocolate Factory') is coming together nicely with new brickwork on the front. See the video along with lots of images with more information about these projects below and stay tuned for more theme park updates!
The Secret Life of Pets Merchandise
Jimmy Fallon Construction
Fast & Furious Update
Toothsome Chocolate Emporium Update
---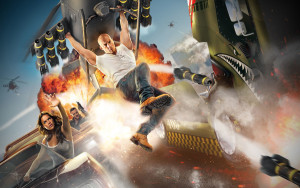 That's all for this update. See all USF updates here and subscribe to the feed for more continual updates!
And subscribe to the YouTube channel for more theme park videos and construction updates coming soon!
Subscribe to Receive Email Updates
---
Consider supporting us on Patreon for as little as $1/month. All patrons receive behind the scenes posts and exclusive podcasts. Learn More
---