Universal has released some images, information, and even cute instructions for their "TapuTapu" virtual wait system at Volcano Bay, opening May 25, 2017. The TapuTapu is a wristband visitors will pick up when they arrive to Volcano Bay. During their day they can use it to hold their place in line while they do other things, instead of waiting in line.
---
---
But TapuTapu promises to be much more than just a ride reservation system. Your TapuTapu wearable will allow you to interact with your environment and play with elements all around the park, from turning on water jets to triggering integrated lighting effects.
The TapuTapu Wearable looks like a rubber wristwatch with a Tamagotchi face (remember those?) You tap it to a totem at a ride entrance. While you wait, the TapuTapu's little screen will keep you informed on when you need to return to ride. When it's time the wearable will alert you. At the end of the day you return your TapuTapu. This is not like MyMagic+ at Disney. There is nothing to buy, nothing to keep, and (as far as I know) nothing to accessorize your wristband (other than selecting your color.)
Check out the images and official information below to learn more about TapuTapu, and stay tuned for more Volcano Bay news and updates. Universal's Volcano Bay is scheduled to open May 25, 2017.
TapuTapu Makes Fun As Easy As A Wave Of Your Wrist
At Volcano Bay, every guest is granted the powers of TapuTapu. With just a wave of your wrist you'll be able to hold your place in the ride lines and discover wondrous surprises.
Images shown are conceptual representations, details are subject to change. Images copyright Universal. 'Volcano Bay' and 'TapuTapu' are registered trademarks of Universal Studios.
---
---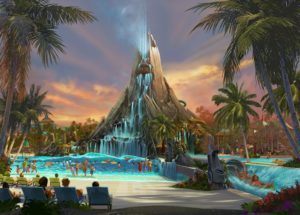 See all Volcano Bay updates, including original concept art, building plans, and news updates here. See the full list of attractions here. Stay tuned to the feed for breaking theme park news and more Volcano Bay updates!
And subscribe to the YouTube Channel for more construction update videos!
Subscribe to Receive Email Updates
---
Consider supporting us on Patreon for as little as $1/month. All patrons receive behind the scenes posts and exclusive podcasts. Learn More
---