The rumors can finally be put to rest, Fast & Furious: Supercharged has been officially announced for Universal Studios Florida. To make way for the new thrilling ride, Disaster: A Major Motion Picture Starring You! will close permanently on September 8, 2015, with Beetlejuice Graveyard Revue closing later this year. All indications are that the area will remain themed as San Francisco, which not only will save Universal a lot of money, but will retain the area's existing restaurants and sights, (which is good, considering this is where they chose to move the picture spot of Bruce the shark from Jaws.) This new attraction is slated to open sometime in 2017, the same year Universal's new water park Volcano Bay is scheduled to open.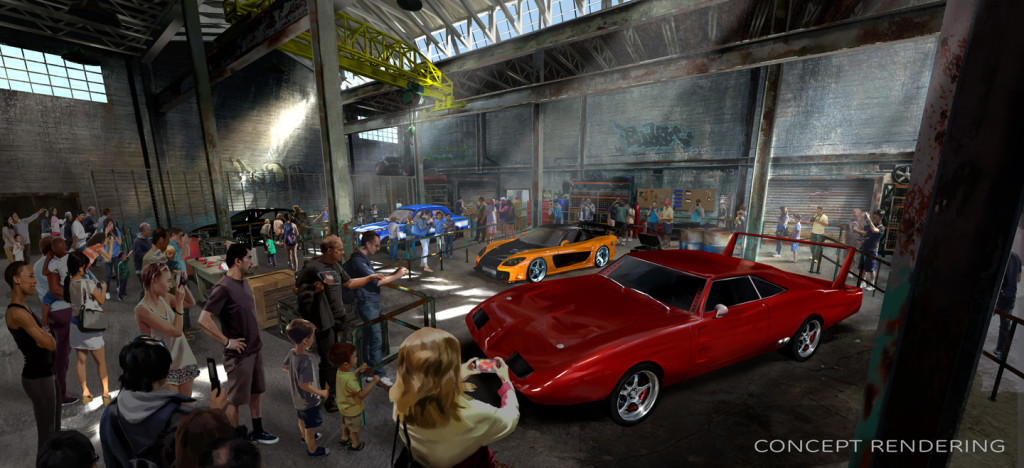 The announcement comes just a few months after Fast & Furious: Supercharged opened as part of the tram tour at Universal Studios Hollywood (watch a ride video here). It uses a similar style of technology as Kong 360 where the tram travels through a large corridor of 3D screens while wind and motion base effects help create the illusion of high speed. Currently it is not known how the Florida version will differ, but considering the attraction's name has not changed, and the fact that they're building it on the site of the Disaster ride, it's quite possible that the ride video will remain relatively, (if not entirely) the same. The biggest difference will be the ride vehicle. Perhaps, to save time and money, a modified version of the Disaster (formerly Earthquake) subway tram will be used, as it is a similar shape as the Hollywood tram tour vehicles. Personally I'd like to see something new for the Orlando park, but it's definitely time for Disaster to go away, although I will miss Christopher Walken as Frank Kincaid, you're welcome. Read below for full details about the new attraction and stay tuned for more Universal news!
All-New Fast & Furious Ride Coming to Universal Orlando Resort in 2017

You've seen the cars. You've seen the action. And soon, you'll be able to live it.

I'm so excited to share that one of the most successful film franchises of all-time will soon become one of Universal Orlando Resort's most action-packed ride experiences.

Buckle your seatbelts, because in 2017, Fast & Furious: Supercharged is coming to Universal Studios Florida. You'll feel like part of the "Fast family" as you embark on a thrilling new Fast & Furious adventure that will put you right in the middle of the action.

This ride is going to fuse everything you love about the films with an original storyline and incredible ride technology. You'll get to check out some of the high-speed, supercharged cars you've seen on the big screen. You'll be immersed in the underground racing world made famous in the films and explore the headquarters of Toretto and his team. Then, you'll board specially-designed vehicles for an adrenaline-pumping ride with your favorite stars from the films.

To make way for Fast & Furious: Supercharged, Disaster: A Major Motion Picture Starring You! will close permanently on September 8, 2015, with Beetlejuice Graveyard Revue closing later this year.

There's SO much to share about this thrilling new ride—I can't wait to share more details in the future. Make sure you stay tuned to the blog for updates.
Subscribe to Receive Email Updates
---
Consider supporting us on Patreon for as little as $1/month. All patrons receive behind the scenes posts and exclusive podcasts. Learn More
---