If you've seen my previous photo updates and video then you know that the Jurassic Park River Adventure has undergone a renovation last month. It's open now and looking just as beautiful as it ever has. This week in UONews (Universal Orlando® Resort's Team Member Newsletter) they reported on the refurb along with some details. As I expected the refurb focused on key visual elements including new skins for the dinos and a complete revamp of the finale's waterfall rockwork. Read the full excerpt from the publication below or check out the PDF here. Also, be sure to check out my previous posts with photos and video!
Teams Partner to Refurbish Jurassic Park River Adventure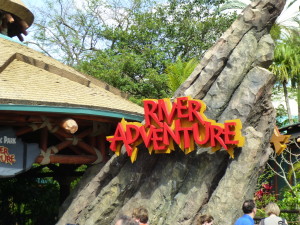 Have you seen what's recently hatched at Jurassic Park River Adventure? Last month, Jurassic Park River Adventure underwent a substantial revamp to restore its original design and theme with creative direction by the Universal Creative Attractions Show Quality team. To ensure the enhancements remained true to the original concept, the team called on Neil Engel, the Art Director from the 1996 Jurassic Park – The Ride at Universal Studios Hollywood. The project was realized through the talents of many teams across Universal Orlando.
Some of the highlights of the renovation of this great Islands of Adventure attraction include: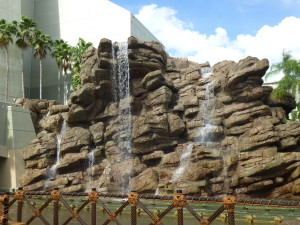 a restored Jurassic Park River Adventure marquee sign;
refreshed and repainted show scenes;
new skins on many dinosaurs;
refocused show lighting;
converted LED exterior show lights;
restored 81-foot drop rockwork;
and more!
"As a partner and resource, Universal Creative's Attraction Show Quality team assisted with collaboration on the original story and design intent with proper documentation, color guides, and on-site art direction. It's a real testimony to our devotion on preserving our Universal brand while enhancing guest experience" says Eric Hunt, Attractions Show Quality Director.
About The Universal Creative Show Quality Team:
The Universal Creative Attractions Show Quality team was recently formed to evaluate existing attractions at Universal Parks & Resorts worldwide to ensure they have remained true to their original creative visions and stories. Their efforts led to the Jurassic Park River Adventure renovation, but these enhancements are just the beginning. The Attractions Show Quality team is continuously assessing the status of attractions and developing improvement plans to ensure brand integrity and guest experience.
If you haven't yet, check out my previous posts featuring all of the renovation photos, during and after!
Subscribe to the feed for more continual park updates!
Subscribe to Receive Email Updates
---
Consider supporting us on Patreon for as little as $1/month. All patrons receive behind the scenes posts and exclusive podcasts. Learn More
---