This morning Universal Orlando has released a video showcasing the incredible new ride vehicle for Skull Island: Reign of Kong. The vehicles will be 40 feet long, weigh 17 tons, and will carry up to 72 guests at a time (12 per row). It is 13 feet tall with 45 inch wheels. The vehicles will be the first trackless system for Universal, with no guide rails, or lines of any kind on the ground. They will be "driven" by one of five drivers. Rumors have them as being animatronic characters in the truck cab, seated behind a pane of glass separating the guests from the "driver". Check out the video, as well as more ride vehicle information and more details on the "drivers" you may encounter on your trip to Skull Island below. Stay tuned for more theme park news coming soon!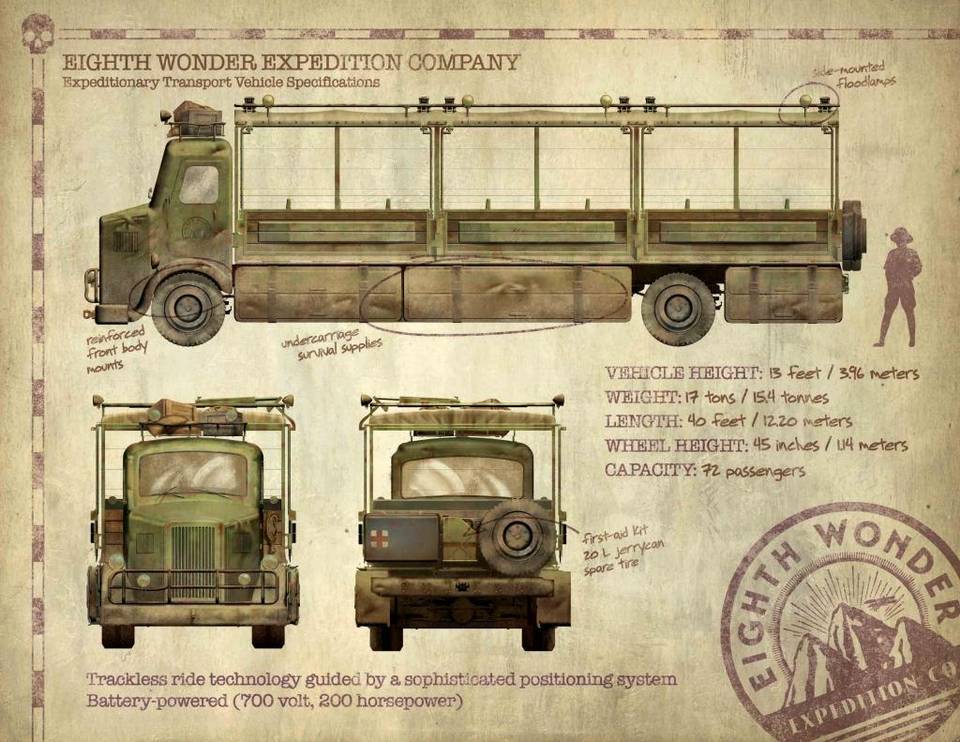 The ride vehicle will use a sophisticated positioning system rather than tracks or guide rails. This system will allow the ride path to be adjusted easily, which will be utilized to reroute the vehicles to a B-path, bypassing the outdoor scene during inclement weather. The trackless guided system may be a variation of the VDL Containersystemen, which is used to move shipping containers autonomously. A key point of this vehicle is that it utilizes crap steering. If the Kong ride vehicles do as well, that could explain how a vehicle so large could make such tight turns through the show scenes. See the video below for more.

The ride vehicles will not actually need to be driven, as they are completely automatic and running through a programmed pathway, but we will still get to see a "driver" in our vehicles, as part of the story. Each ride vehicle will have their own driver to go along with it, (an animatronic seen behind a pane of glass,) and each will have their own characteristics and back-story, making multiple visits a different experience. The five characters are:
Becky – a cowgirl
Will Denham – adventurous cousin of a movie director
Jinks Costanza – ex-con from New York City
Kalana – descendant of Skull Island's natives
Doc – paleontology student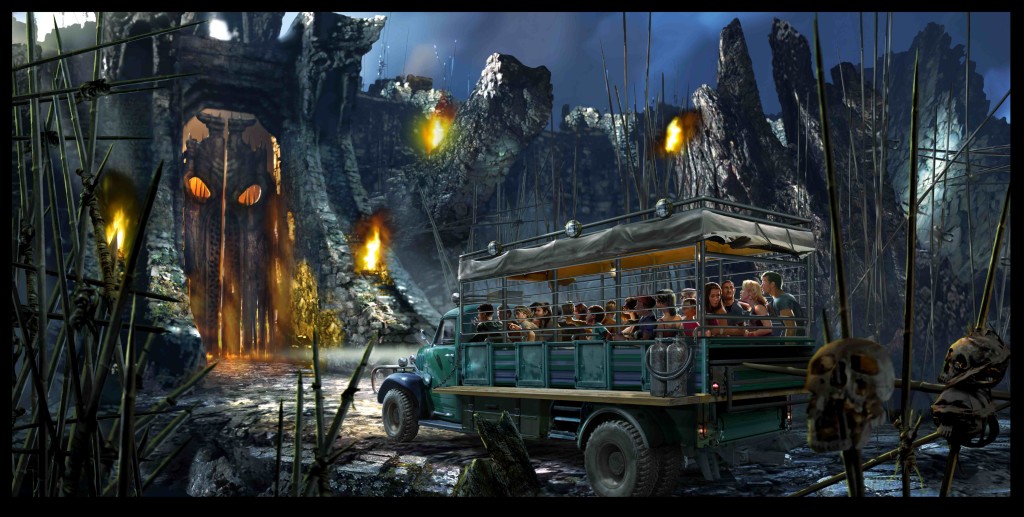 Universal Orlando has not yet released an opening date for Skull Island: Reign of Kong, but all signs are indicating late June as the grand opening, with soft openings in the weeks leading up. Stay tuned here for continuing coverage of all things Kong!
Be sure to check out my recent Kongstruction update with video, and see all Kong updates here. Subscribe to the feed so you never miss a new post!
And please subscribe to my YouTube channel for more theme park videos and construction updates coming soon!
Subscribe to Receive Email Updates
---
Consider supporting us on Patreon for as little as $1/month. All patrons receive behind the scenes posts and exclusive podcasts. Learn More
---