Williams of Hollywood is a shop at Universal Studios Florida where you can buy actual props from old rides, stores, events and more! While on my last visit I noticed some new items in the shop from the JAWS ride, Twister, Disaster and even a giant Woody Woodpecker figure too! Man, if I just had 2000 dollars lying around I would so pick up that shark from the old JAWS wait time sign. Really brings back memories. Check out the video or photo report below and stay tuned for more theme park updates.
Photo Update
---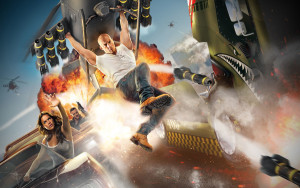 That's all for this update. See all USF updates here and subscribe to the feed for more continual updates!
And subscribe to the YouTube channel for more theme park videos and construction updates coming soon!
Subscribe to Receive Email Updates
---
Consider supporting us on Patreon for as little as $1/month. All patrons receive behind the scenes posts and exclusive podcasts. Learn More
---