Universal Orlando is giving us a sneak peak at the more than 60 unique island-inspired dishes we'll find at their new water park, Volcano Bay, opening May 25, 2017! We're also getting our first details on the four restaurants and two bars of Volcano Bay. No matter where you are in the park, you'll never be too far away from your next meal, snack, or exotic drink!
Many of the dishes are inspired by the South Pacific and will include interesting choices like slowly-smoked, glazed Hawaiian Ribs with boniato mash and sweet plantains, and coconut curry chicken made with braised chicken, green coconut curry sauce, white rice, sweet coconut and fresh cilantro. But don't worry, they'll be plenty of traditional theme park fare as well, like Chicken Fingers, Hamburgers and Pizza. For dessert, try a decadent Chocolate Pineapple Upside Down Cake!
Check out all the details and food photos from the four restaurants and two bars of Volcano Bay below, as well as the video showing off just eight of the more than 60 dishes coming soon to Universal's new water park! And stay tuned for more theme park news coming soon.
Volcano Bay Restaurants
---
Kohola Reef Restaurant & Social Club
Wave Village – Near the Krakatau Volcano
This will be the main dining location for Volcano Bay, located at the base of the volcano, Krakatau. Here you'll find entrees like Hawaiian Slow-smoked Ribs served with Boniato Mash and Sweet Plantains, Smoked Tamarind Glazed Chicken with with Coconut Rice and Sweet Plantains, and the Pulled Pork Sandwich topped with Caramelized Pineapple and Mango Slaw on a Toasted King's Hawaiian Roll.
There will also be an assortment of specialty burgers and sandwiches like the Belly Burger, Szechuan-glazed Pork Belly and Caramelized Onions Topped with Fresh Cucumber Basil Slaw, Lettuce, and Tomato. This location will also feature many of the grab and go options you'll find at the other counter-service locations including salads, wraps, snacks, and even sushi packs. You can check out the full menu for this restaurant here.
---
Whakawaiwai Eats
River Village
Savor Island BBQ Chicken Pizza, Tropical Baby Greens salad, Hawaiian Pizza and more brilliantly delicious temptations alongside the sparkling river. Treat yourself to delicious temptations sure dazzle your palate any time of day. See the full menu here.
---
Bambu
Rainforest Village
Exquisitely crafted by island builders, this cool, shaded hideaway made of elegant stalks of bamboo offers a mouthwatering selection of quick and easy eats. Choose from imaginative island fare such as the Reka Burger, Pretzel Dog or the Tropical Fruit Salad. Full menu here.
---
The Feasting Frog
Rainforest Village
Inviting patio seating surrounds this vibrant and quirky structure shaped like a tropical frog. Here you'll find refreshing drinks and satisfying snacks like the Poke Poke Bowl, Taco Sampler, or Plantain Chips & Guacamole. See the complete menu here.
Volcano Bay Bars
---
Kunuku Boat Bar
Wave Village
Refreshing frozen drinks, specialty cocktails, fountain sodas and draft beers are just some of the thirst-quenchers on offer at this permanently beached outrigger canoe. Flying the sails of a Chinese junk rig, this landlocked bar is named for the mythical fish that guided the Waturi islanders to Volcano Bay.
---
Dancing Dragons Boat Bar
Rainforest Village
Relax in the shade of this cool canteen shaped like an ancient outrigger canoe. With the colorfully repainted sails of a Chinese junk ship, it's a delightful place to unwind with tropical cocktails and frozen drinks while digging your toes into the sand.
That's all for now. We'll have more Volcano Bay food and drink coverage coming soon! Check out our continuing coverage of Volcano Bay construction here. And be sure to subscribe to the news feed and YouTube Channel for more.
---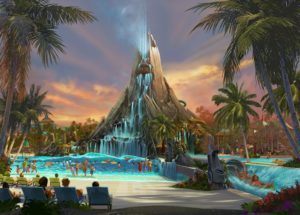 See all Volcano Bay updates, including original concept art, building plans, and news updates here. Learn about TapuTapu and how you'll be able to use it here. Stay tuned to the feed for breaking theme park news and more Volcano Bay updates!
And subscribe to the YouTube Channel for more construction update videos!
Subscribe to Receive Email Updates
---
Consider supporting us on Patreon for as little as $1/month. All patrons receive behind the scenes posts and exclusive podcasts. Learn More
---